THE ROCKY HORROR SHOW 
Cyclodrama is proud to announce the return of Richard O'Brien's THE ROCKY HORROR SHOW. Coming in October to Club Diversity. 
The Rocky Horror Show is a a humorous tribute to the science fiction and horror B movies of the late 1940s through to the early 1970s, the musical tells the story of a newly engaged couple getting caught in a storm and coming to the home of a mad transvestite scientist, Dr Frank N. Furter, unveiling his new creation, a sort of Frankenstein-style monster in the form of an artificially made, fully grown, physically perfect muscle man named Rocky Horror, complete "with blond hair and a tan"
​
PERFORMANCES


Friday October 6

, 7:30p
Saturday October 7

, 7:30p
Saturday October 14

, 7:30p
Saturday October 21

, 7:30p
The Rocky Horror Show performs at Club Diversity (863 South High Street, Columbus Ohio) Guests of 18 years of age and up are welcome to the performance, guests 21 and up may order from a fully-stocked bar in a restored Victorian style home from 1880
We love the fact that absolutely anyone can come to this club and feel welcome. The driving force behind our success is, literally, everyone who walks through these doors: the clients, performers, & the family of people who work here!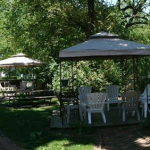 Enjoy our outdoor area!
2nd Monday of every month is "Monday Munchies"  from 6-8pm.  Customers can bring an appetizer to share with others and share some favorite recipes.
Karaoke Every Wednesday & Sunday Nights at 7PM!
Thomas Crumley Plays Every Thursday 9PM-11PM
OCTOBER
6th Stewart, Ross and Wendy
13th Louise Salvador w/Bob J. Mills
21st The Velvet Sirens
28th Shane D Wilson Jazz
Sign Up For Our Newsletter